Bern's Family Group Dining Options
Bern's Steak House Group Dining
Group Dining reservations for Bern's Steak House are accepted 90 days in advance of the date desired.
Parties over 12 must go through our group dining department and secured with a contract.  We do not accept any reservations over 12 guests on Friday or Saturday evenings.  (our sister restaurant, Haven, does accept larger parties on those dates)
---
Champagne Room
10 guests max (at one long table)
food and beverage minimum of $1000++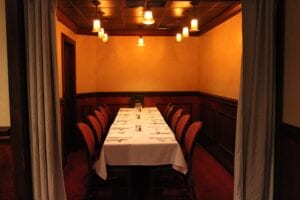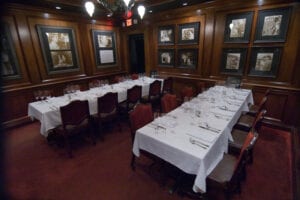 Andre Tchelistcheff Room (AT)
20 people maximum at 2 tables of 10
$2000++ food and beverage minimum
Available Sunday – Thursday evenings (not available on Friday & Saturday evenings)
Florentine Room
26 people maximum at 3 parallel tables

20 people maximum at one long table

$3000++ food & beverage minimum
Available Sunday – Thursday evenings (not available on Friday & Saturday evenings)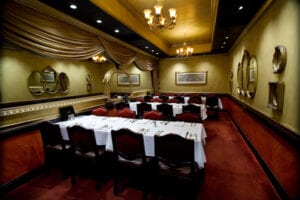 ---
Burgundy Room
44 people maximum at 4 parallel tables

32 people maximum at one long table

$4000++ food & beverage minimum
Available Sunday – Thursday evenings (not available on Friday & Saturday evenings)
Bern's Steak House Menu Options

Pre-Set Menu Options

Any party over 20 must choose from one of our three customized pre-set menus.  Options will be provided at the time of booking

Open Menu

Parties of 20 or less can enjoy our regular dinner and dessert menu

Additional information regarding group dining at Bern's Steak House:
We do not allow for any AV usage or meetings to be held in any of our dining rooms, even if your party is booked privately. Outside wines are not allowed to be brought in, however if there is a special wine that is not represented on our wine list, you are welcome to bring it in for a $75 per bottle corkage fee with a limit of one 750ml bottle per two guests. We do not offer any drink packages, but are happy to suggest wines for your group. Parking is valet only (cash) and it cannot be added to your bill as it is through a third party company. All reservations offer the option of seating in the dessert room after dinner.
For more information or to secure a large party (12+) or private reservation, please contact Natalie Wilson at [email protected].
Haven Group Dining Options
Bern's sister property
(one block south – 2208 W. Morrison Ave)
Non-Private at Haven
Up to 14 people can be seated non-privately
Haven Chef Suite
20 person maximum (at one table)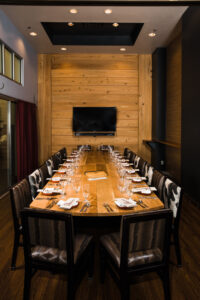 Morrison Patio at Haven
28 person maximum (the picture is a rectangle setup for 12, but for 28 people we can do two parallel tables of 14)
For availability at Haven in one of their private spaces above, or for groups larger than 28 guests and Haven buyout inquiries, please contact Natalie Wilson at [email protected]
Haven offers A/V for a $150 fee.
Haven Menu Options

4-Course Pre-Set

Chef's Appetizer (choice between two)
Salad
Chef's Entrée (choice between three)
House-made dessert (choice between two)
or
Choice of a cheese or a house-made dessert

Open Menu

The same menu that is being served in the main dining room on the night of your dinner.

Please keep in mind that our menu is subject to change, but our most recent version can always be found on our website,

www.haventampa.com

.

We can customize a menu for your guests.  Please speak to our group sales manager for more details.

*

If you're interested in having food on the table as guests arrive, cheese and charcuterie or other appetizers can be pre-ordered. *