Bern's Family Group Dining Options
Bern's Steak House Group Dining
Group Dining reservations for Bern's Steak House are accepted 90 days in advance of the date desired.
Parties over 12 must go through our group dining department and secured with a contract.  We do not accept any reservations over 12 guests on Friday or Saturday evenings.  (our sister restaurant, Haven, does accept larger parties on those dates)
---
Champagne Room
10 guests max (at one long table)
food and beverage minimum of $1000++
*Bern's will be closed on Mondays beginning 3/21/22 through the fall of 2022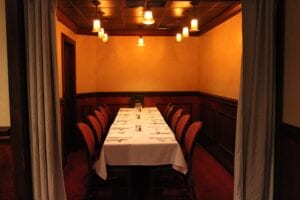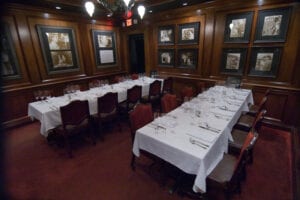 Andre Tchelistcheff Room (AT)
18 people maximum at 2 parallel tables
$2000++ food and beverage minimum
Available Sunday – Thursday evenings (not available on Monday*, Friday & Saturday evenings)
*Bern's will be closed on Mondays beginning 3/21/22 through the fall of 2022
Florentine Room
26 people maximum at 3 parallel tables

20 people maximum at one long table

$3000++ food & beverage minimum
Available Sunday – Thursday evenings (not available on Monday, Friday & Saturday evenings)
*Bern's will be closed on Mondays beginning 3/21/22 through the fall of 2022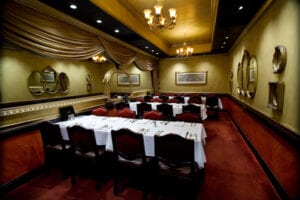 ---
Burgundy Room
44 people maximum at 4 parallel tables

32 people maximum at one long table

$4000++ food & beverage minimum
Available Sunday – Thursday evenings (not available on Monday, Friday & Saturday evenings)
*Bern's will be closed on Mondays beginning 3/21/22 through the fall of 2022
Bern's Steak House Menu Options

Pre-Set Menu Options

Any party over 20 must choose from one of our three customized pre-set menus.  Options will be provided at the time of booking

Open Menu

Parties of 20 or less can enjoy our regular dinner and dessert menu

Additional information regarding group dining at Bern's Steak House:
We do not allow for any AV usage or meetings to be held in any of our dining rooms, even if your party is booked privately. Outside wines are not allowed to be brought in, however if there is a special wine that is not represented on our wine list, you are welcome to bring it in for a $75 per bottle corkage fee with a limit of one 750ml bottle per two guests. We do not offer any drink packages, but are happy to suggest wines for your group. Parking is valet only (cash) and it cannot be added to your bill as it is through a third party company. All reservations offer the option of seating in the dessert room after dinner.
For more information or to secure a large party (12+) or private reservation, please contact our group dining team at [email protected].
Haven Group Dining Options
Bern's sister property
(one block south – 2208 W. Morrison Ave)
Haven offers private and semi-private accommodations for groups up to 50, and full restaurant buyouts for up to 120.  For inquiries, please contact our group dining team at

[email protected]

or 813-284-4838.
Haven Chef Suite
Host your next event or dinner in Haven's private glass enclosed room at the head of the kitchen.  Comfortably seating up to 20, the Chef Suite is ideal for presentations, multi course meals, or any intimate gathering.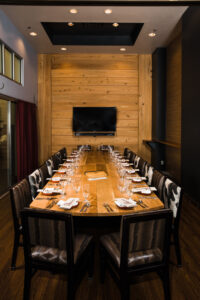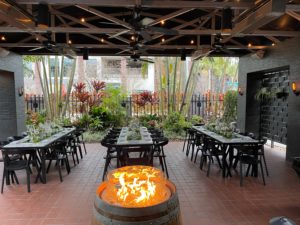 Morrison Patio at Haven
Haven's elegant, covered patio can accommodate up to 30 for a seated dinner and up to 60 for cocktail events.
Haven Lounge
Host your next cocktail event for up to 40 in Haven's lounge.  This unique space has soft seating and cocktail tables to fit your group's needs.  Views of Haven't glass cheese cave, and a private bar make this a one-of-a-kind space to host your next social event.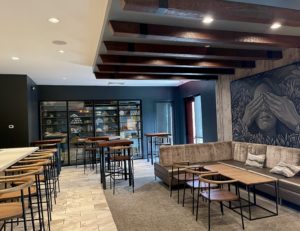 Haven can offer a partial buyout accommodating up to 40 guests for seated dinners, or a full buy out of the restaurant that can accommodate 120 guests.
Haven Menu Options

4-Course Pre-Set

Chef's Appetizer
French Onion Risotto – gruyere, gjetost, sherry glazed onion
~or~
Tuna Sashimi – apples, sea beans, cucumber, dashi aioli
Salad
Baby Greens – fennel, tomato, radish, squash, blue cheese, banyuls vinaigrette
Chef's Entrée
Roasted Red Snapper – sweet potato succotash, smoked paprika, poblano cream
~or~
Coal Grilled Chicken – potato, Hungarian peppers, urfa pepper aioli
~or~
Bern's Filet Mignon – bacon, tomato, & truffle marmalade, broccolini, vin cotta
Dessert
Valrhona Layer Cake – chocolate ganache, chocolate mousse, pomegranate, salted caramel
~or~
Artisanal Cheeses –  belletoile, la tur, moon rabbit, rogue river, sweet & sticky garnishes

✧

Open Menu

For smaller groups Haven can accommodate the full dining room menu.  Please keep in mind that this menu changes frequently. The current version of Haven's dinner menu can be found on their website at

www.haventampa.com

.

✧

Our team of chefs, sommeliers, and mixologist an create just about any style of menu you desire. Multi course tasting menus with wine pairings, whiskey dinners, cocktail parties, and everything in between; the staff at Haven looks forward to customizing a menu to fit your group's needs.

*

Haven can accommodate a variety of A/V needs in each space.  We also offer cooling units for outdoor events for an additional fee*